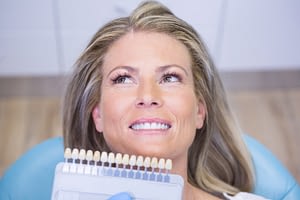 Katie Price is being slammed in the media lately for promoting home whitening kits even though it is well known by the online community that she has Veneers on her teeth.  So that leaves the question.  Can you whiten your veneers?
The answer is technically no and especially not with home whitening kits.  It may be possible for you to polish your veneers depending on the material used.
Plastic prosthetics and veneers are incredibly porous and will darken over time.
Products made with porcelain are highly resistant to stains, and it might be better to whiten the natural teeth around them.
Whitening your teeth is not a simple procedure, and before using any products to do so, you should first ask your dentist and not Katie Price.